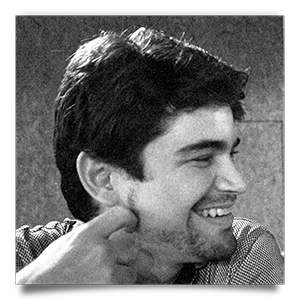 Hi! My name is

Liandro Roger

, I'm from Brazil.
I was born in 1984 and

have been drawing ever since I was a kid

, always willing to make a career out of it.

 

My professional start came in 2006, when

I majored in Advertising and began to work as an

art director for ad agencies

. By the same time, I also began to

freelance as an illustrator

and graphic designer.
In 2008,

I opened my own studio/school

, Oficina de Desenho,

where I began to teach private drawing workshops and continued to carry various art and design projects for local clients. A bit later, I started teaching at a design college in my hometown and, in 2013, I was approved to be a full-time professor at the

Federal University of Ceara

. Since then,

 I've been 

teaching drawing and concept design

at the undergraduate program on Digital Media.
Besides the university,

I'm part of an

indie game dev team

called Playable Creatures

, whose main title is currently under development. I'm also constantly engaged on freelance and personal artwork, mainly as a

character designer, illustrator and concept artist.
I love to draw and have a lot of fun

coming up with stylized cartoony ideas. As a result of my work, I hope to be able to bring some joy into people's lives.
I also like to sing and hobby with music in my free time. :)
Please feel free to drop me a word on the Contact page, on social networks or via e-mail on the bottom of the site.
Thank you for being here!